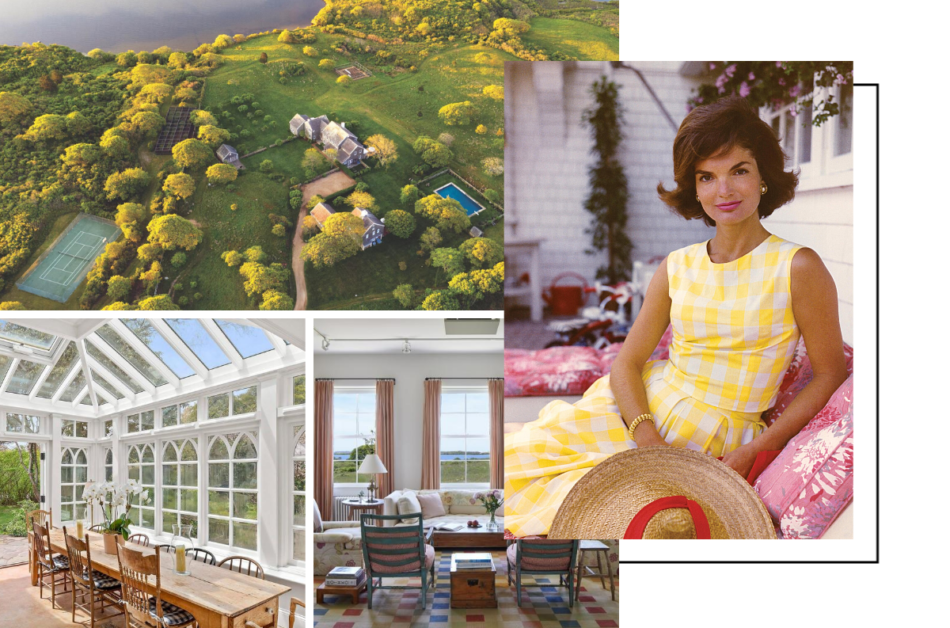 JamesEdition features the impressive heritage of Jacqueline Kennedy's former homes. Jackie O's Martha's Vineyard house, Red Gate Farm, has been one of the most visited listings on our site throughout the last year. And, recently, Jackie Kennedy's childhood house in East Hampton and the New York apartments in the compound where she lived in 1964 went live on our website.
All three properties are true real estate gems–no real surprise, given the background of their former owner.
So, let's take a close look at these stunning homes, some of which still carry Jacqueline's recognizable sense of style.
Jackie O's house in Martha's Vineyard, Massachusetts
Jackie Kennedy acquired an estate called Red Gate Farm in the south of Martha's Vineyard in 1979, falling in love with it irrevocably, says her daughter Caroline Kennedy who owns the property today.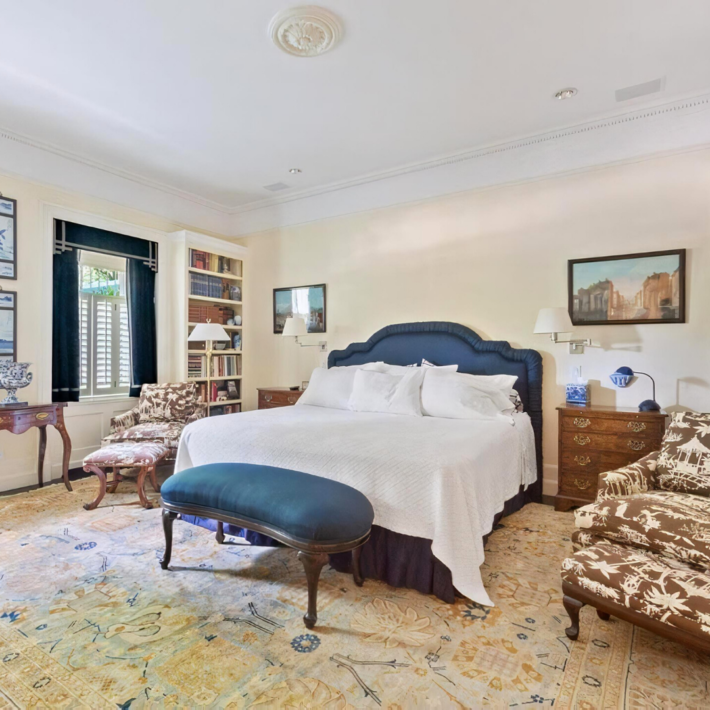 Jackie Kennedy's Martha's Vineyard house sits on a 340-acre Cape Cod-style estate. It was designed by Jacqueline herself in cooperation with Hugh Newell Jacobsen and Bunny Mellon, who earlier developed the marvelous White House Rose Garden and the Jacqueline Kennedy Garden in Washington D.C.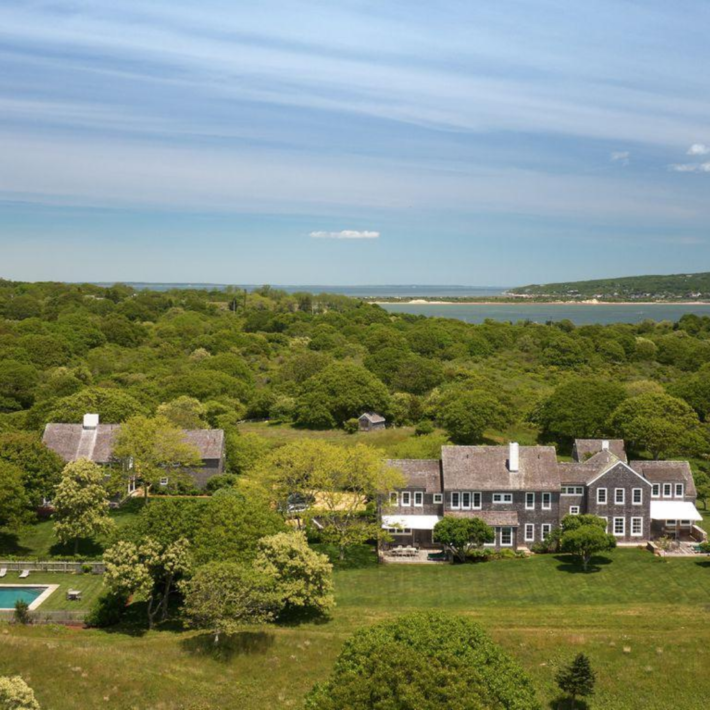 Initially, when Jackie O bought the Martha's Vineyard house, there was only a hunting cabin. Two years later, this gorgeous, 6,456 square foot, cedar-shingled main residence and a cozy guest cottage were constructed, both overlooking the Atlantic Ocean.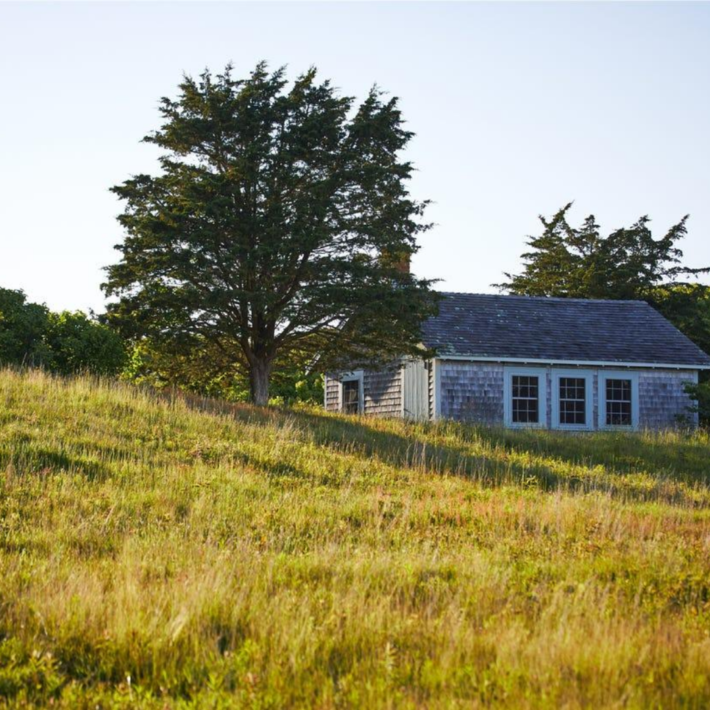 The floor plan is designed perfectly, so that all rooms (except for the dining room), overlook the beach and ocean. Later, the daughter of the former first lady continued to improve the interior and decor with the assistance of the Dean of the Yale School of Architecture, Deborah Berke.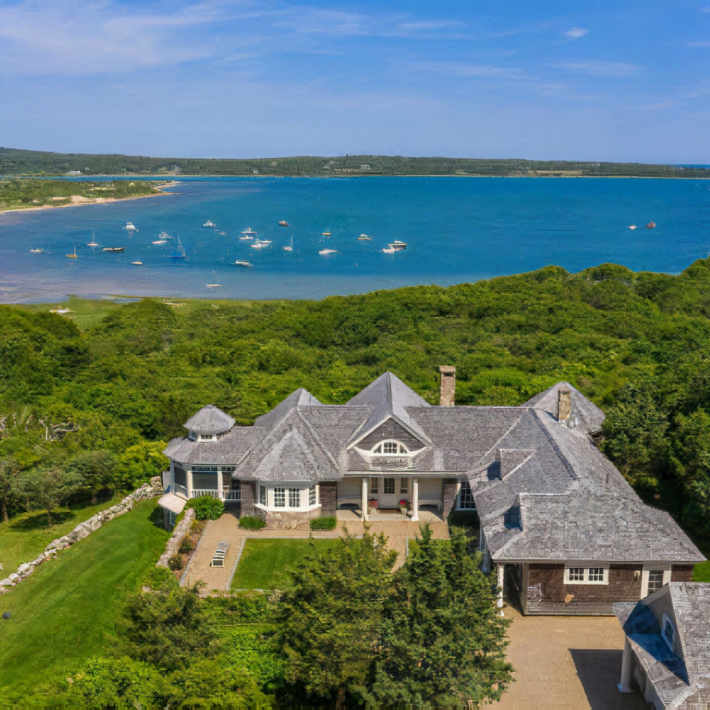 "The idea was to make rooms where the family could gather, where they could entertain a large circle of friends and be able to house guests," Berke explained The Wall Street Journal.
The main level of Jackie Kennedy's Martha's Vineyard House starts with a formal sitting room with a fireplace and leads into a living room, library, dining room, and an expansive kitchen equipped with professional-grade appliances.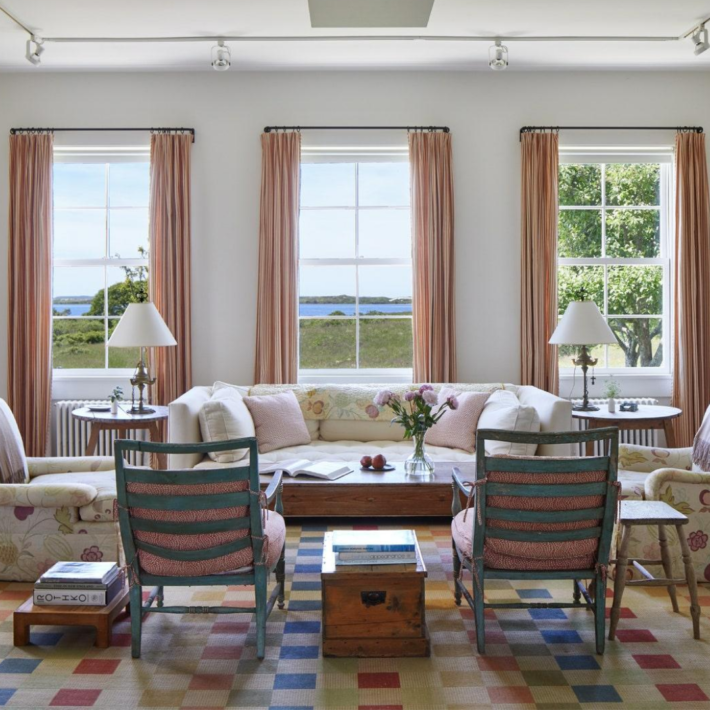 According to Architectural Digest, Jackie O's Martha's Vineyard estate also boasts a house pool, a tennis court, a treehouse for grandchildren, and even vegetable gardens.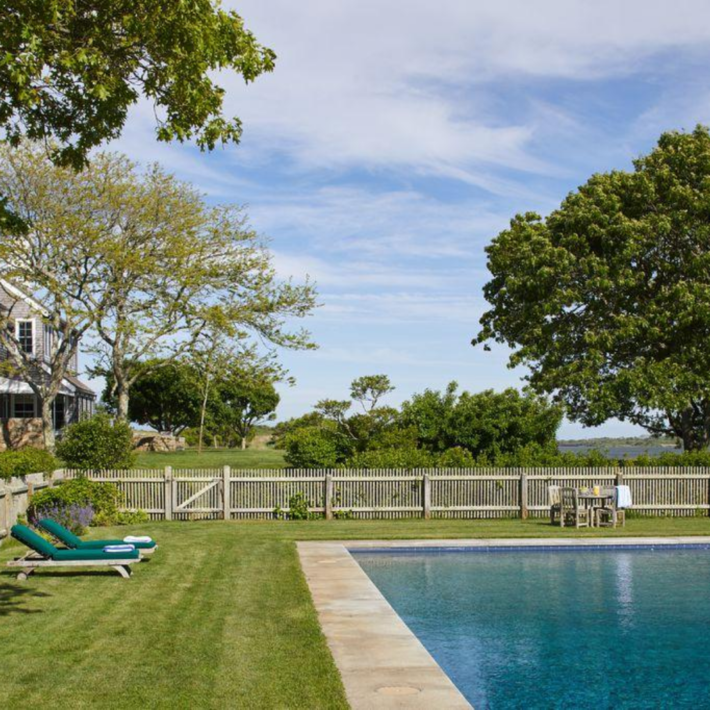 In terms of location, the Martha's Vineyard's home is undoubtedly unique. It nestles on a picturesque plot, from which you can easily reach the Hyannis Port via ferry. Currently, the acreage surrounding Jackie Kennedy's house mostly is wild and borders the private Atlantic coastline for more than a mile, providing unrivaled ocean and dune views.
The island of Martha's Vineyard remains a favorite spot for famous politicians such as the former US president Barack Obama, and Hollywood figures like David Letterman and even Oprah Winfrey.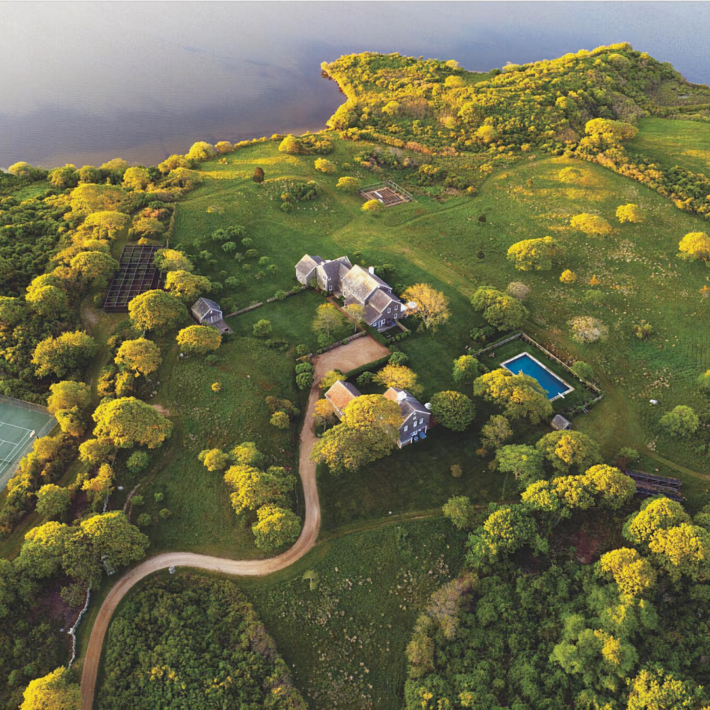 With a price of US$65,000,000, Jackie O's  Martha's Vineyard house is the most expensive real estate in Massachusetts listed on JamesEdition. And, if you are thinking of buying a property in this area, you will find numerous other homes for sale in Massachusetts as well.
Jacqueline Kennedy's childhood home: Wildmoor Estate in the Hamptons, New York
Wildmoor is a property that was built in 1895 which the Bouvier family has owned for decades, and was the summer house of both Jacqueline and her father "Blackjack" Bouvier.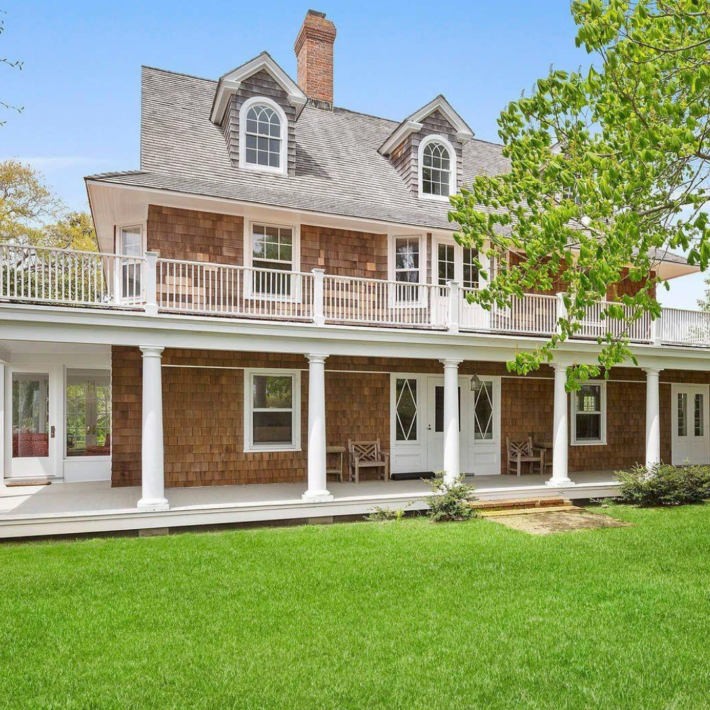 While her grandfather lived on the huge Lasata estate in East Hampton, Jackie spent much of her childhood with her sister Caroline Lee Radziwill, and parents at Wildmoor, a smaller family home located nearby.
Сompared to the other house that Jackie Kennedy also lived in during her childhood, the house in Marywood, this home was considered a modest one. Despite this fact, it easily accommodated the whole family and even occasional guests in its six, cozy, floral bedrooms; the family often hosted parties and weekend polo matches.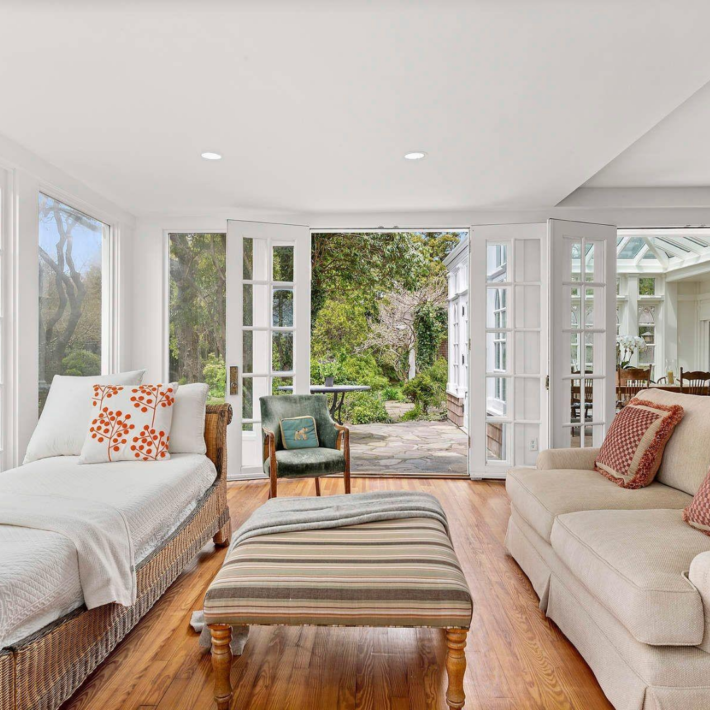 This classic summer house with its gabled roof, wrap-around porch and Palladian windows offers approx. 4,291 sq.ft. of spacious rooms, along with a stunning atrium, pergola-covered terrace, and a sunroom.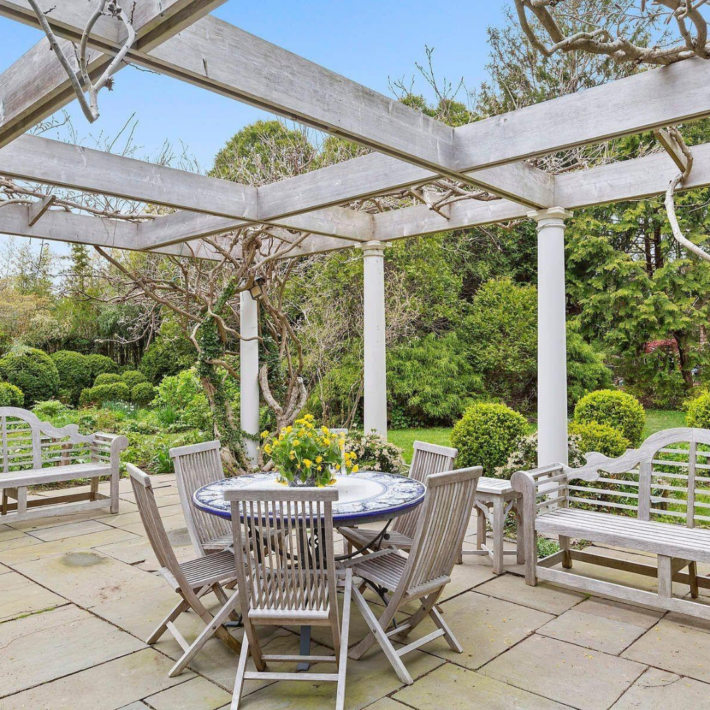 Terrace in Wildmoor Estate View the listing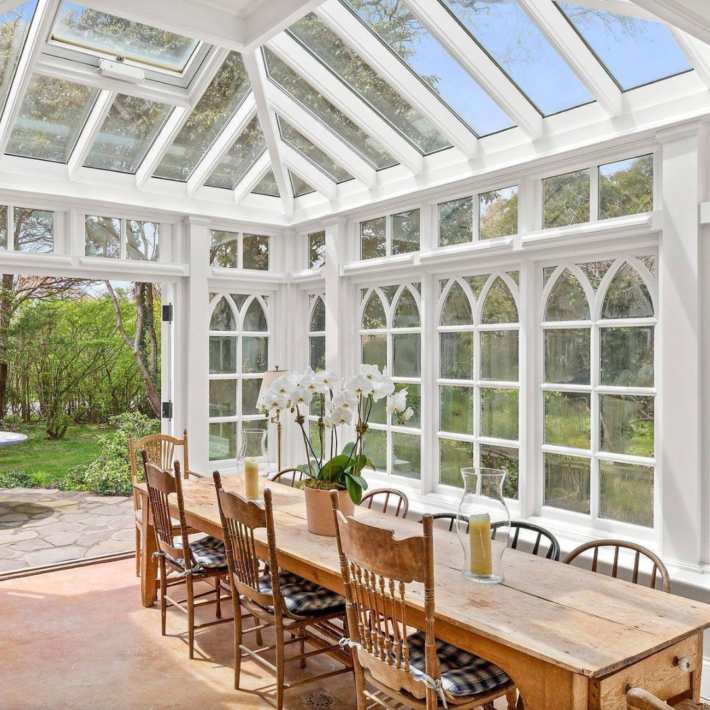 Sunroom in Wildmoor Estate View the listing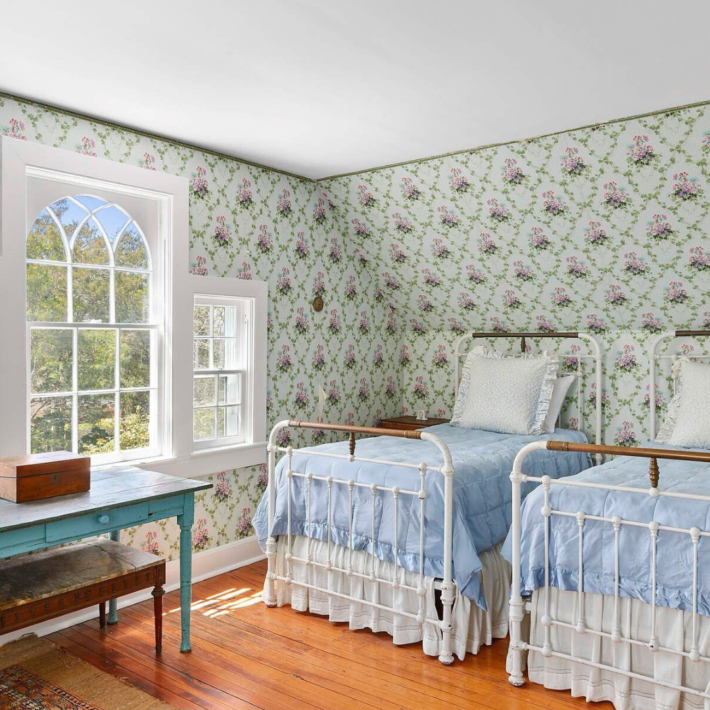 Bedroom in Wildmoor Estate View the listing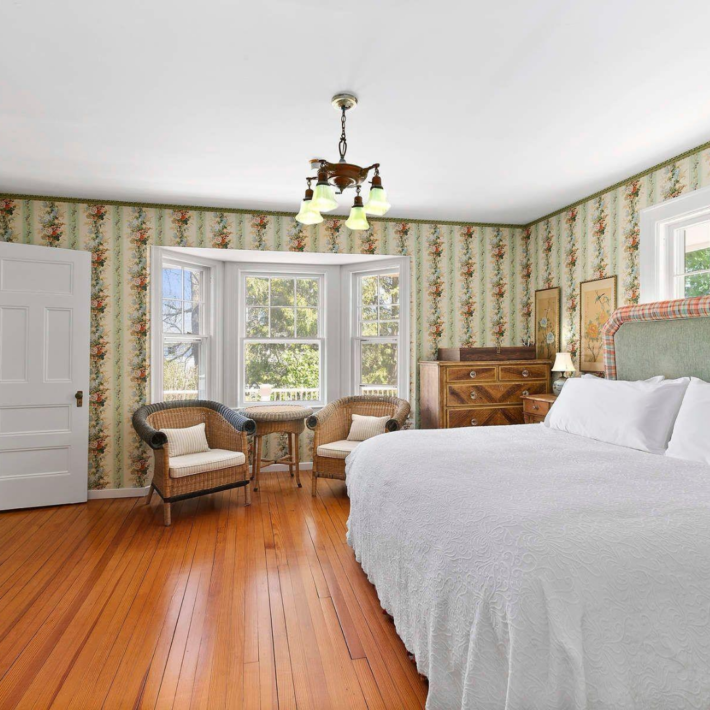 The ideal seaside location on Apaquogue Road allows you to feel the breeze and hear the romantic sounds of the ocean waves.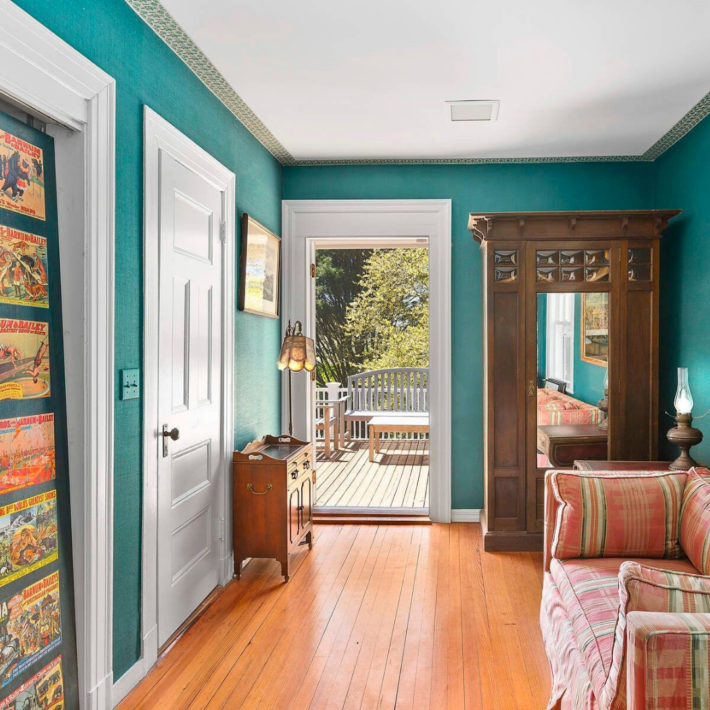 If you are considering buying a home nearby, take a closer look at all homes for sale in East Hampton listed on JamesEdition.
Jacqueline Kennedy's Manhattan residence at 1040 Fifth Avenue, and two fantastic apartments for sale on the next floor
Shortly after President John F. Kennedy's assassination, the former first lady and her children moved from the White House to her Georgetown home, where she lived for one year (until 1964).
She then decided to move to Manhattan and bought the fifteenth floor penthouse in a luxury residential housing cooperative: 1040 Fifth Avenue in the Upper East Side.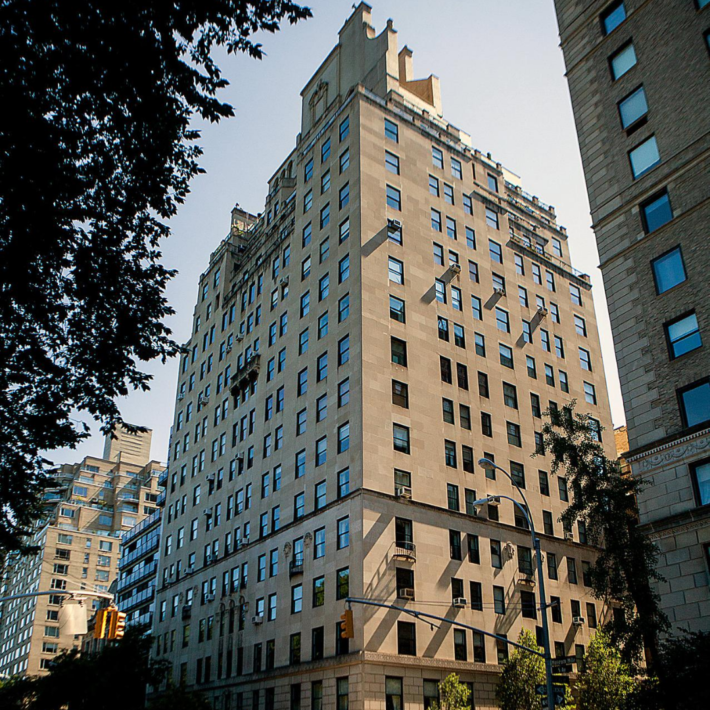 1040 Fifth Avenue, New York
Built in the 1930s, 1040 Fifth Avenue has offered residents the highest levels of white-glove services ever since. Today, it houses only twenty-seven apartments, two of which are listed for sale on JamesEdition.
4-bedroom apartments at 1040 Fifth Avenue
The US$7.9M, sun-flooded, twelve-room duplex is an architectural masterpiece. And, just like Jacqueline Kennedy's former home, it boasts spectacular Central Park views. The impressively large living room has two oversized windows facing west and a cozy, wood-burning fireplace.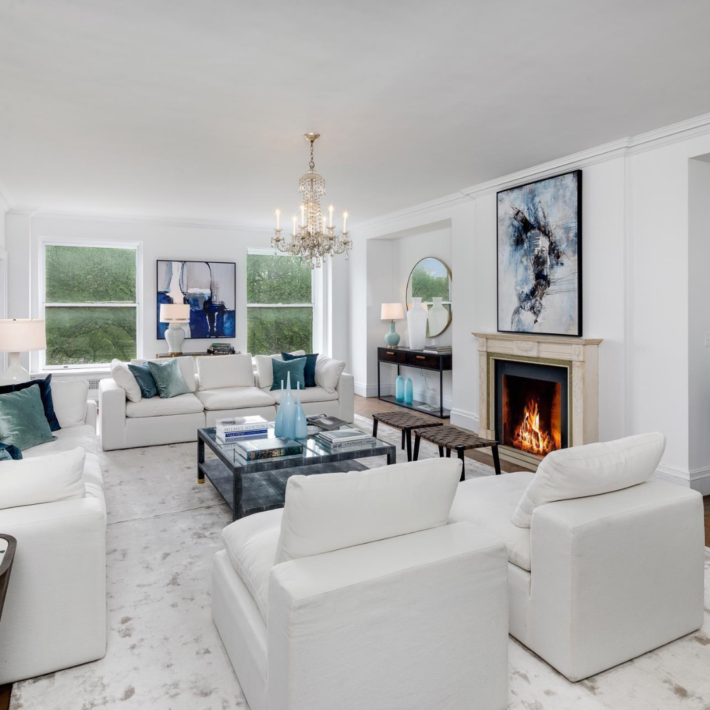 Through the French doors just off the living room and the gallery is the formal dining room which provides the perfect space for gatherings.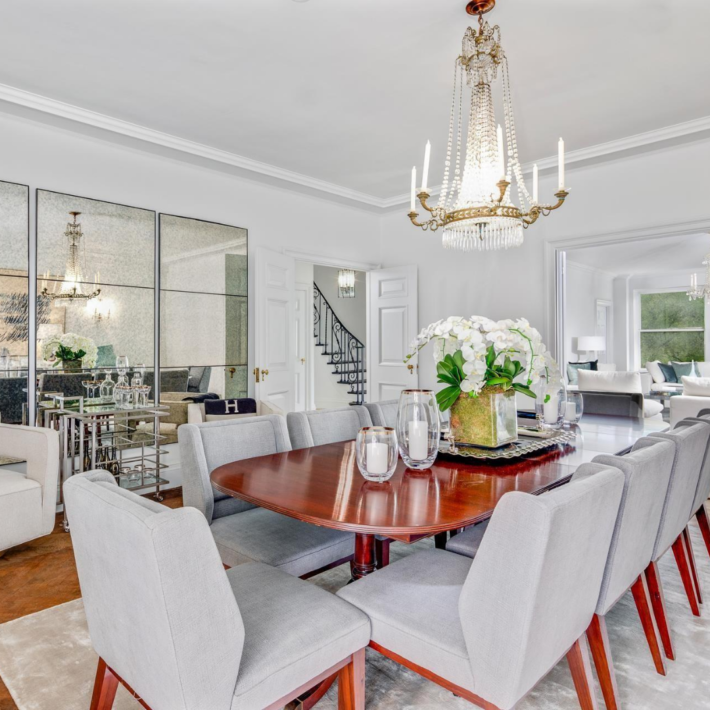 Adjacent to the dining and living spaces is the gorgeous, wood-paneled library, which also overlooks the park.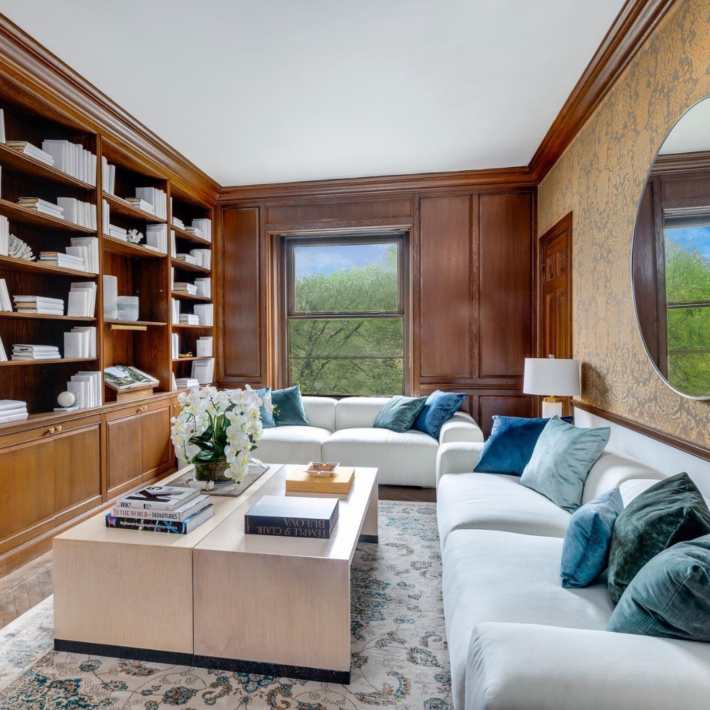 3-bedroom apartments at 1040 Fifth Avenue
Another apartment next door to the former home of Jacqueline Kennedy at 1040 Fifth Avenue, is this three-bedroom apartment.
The welcoming corner living room is light-flooded and opens onto the dining room.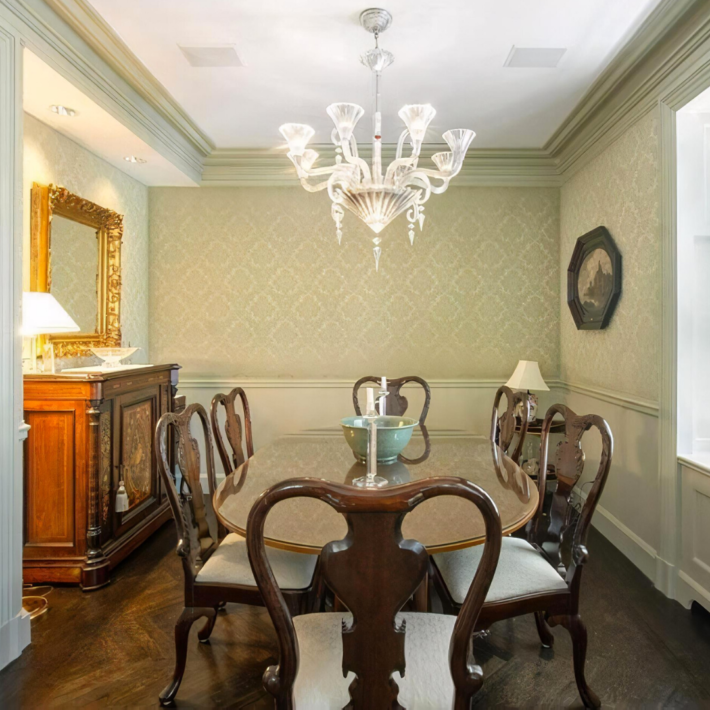 The oversized master suite is separate from the other two bedrooms and includes a huge, marble bathroom with shower and soaking tub, as well as endless custom closets.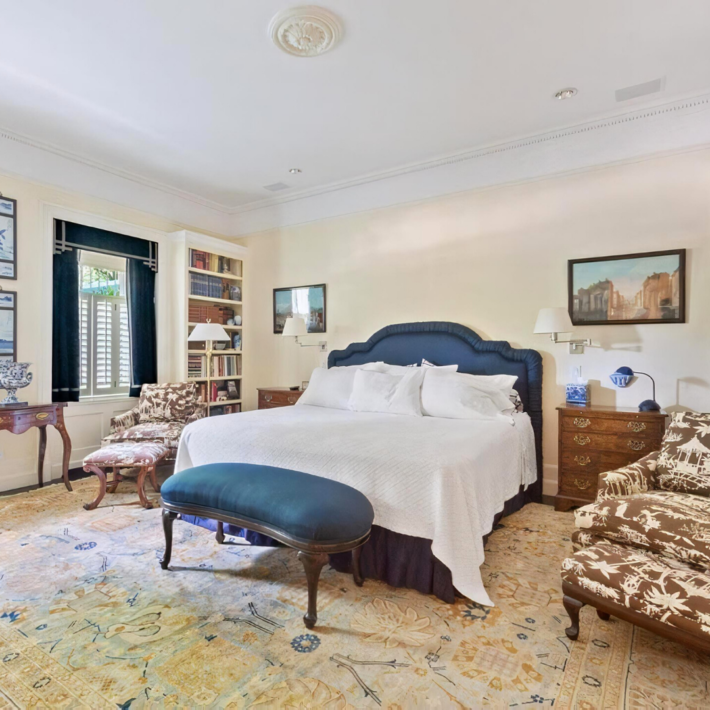 3-bedroom apartments at 1040 Fifth Avenue (US$3,995,000) View the listing